Hello!
So a little about me….I'm a physiotherapist and endurance athlete, living and working in London. I have a passion for travel and love exploring new places on foot! I'm a big advocate of promoting the benefits of exercise for both physical and mental health and well-being. Alongside this, I also have a chronic digestive condition called Gastroparesis, which can make fuelling for sport challenging.
I am primarily an endurance runner (competing in anything between 5km to half marathon distance). From a young age I trained and competed with my local athletics club, competing in regional and national races.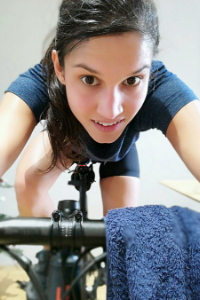 More recently, I have branched in to the world of cycling. I've learnt to absolutely LOVE cycling and the sense of freedom it gives me. I'm looking to combine my two passions and complete my first duathlon in the next year.
Unfortunately I am currently taking some time out of my normal training regime due to an injury I sustained early in the year. However, this has not changed my need to fuel well. I commute 125km a week on the bike and will gradually be re-introducing my runs and turbo sessions. I typically train 6 days a week.
So why do I love Brynmor flapjacks? I'm not sure where to start…..I guess the flavours were a big selling point for me! The variety on offer is so much better than any other sports brand I've come across. I love the fact that there is the option of a higher protein bar (which also contains good levels of carbohydrates to help fuel my sessions). The team are also incredibly friendly and approachable, which makes a big difference.
So here are some fun facts about me 🙂
Who is your favourite sportsperson and why?
Without doubt Mo Farah – I have followed his career from the early stages. He's such an inspiration and role model to so many athletes out there. Plus, who can't beat a good Mo-Bot!
What is your fave food?
Hmm this is a tricky one….I'd probably have to say sushi!
What film makes your cry?
Haha I cry so easily at films, I'm a nightmare to take to the cinema! As a child I was banned from watching The Fox and the Hound because I would cry every time!
What is your fave Brynmor flapjack?
The salted caramel protein bar….although the range is so big I haven't got through them all yet!
If you want to become a member of Team Brynmor like me…email the team on info@brynmor.com 
Good luck!
Rose x